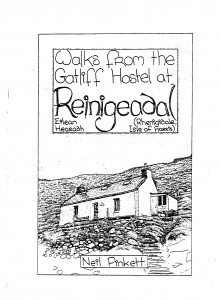 In 2000 the Gatliff Trust published Neil Pinkett's Walks from the Gatliff Hostel at Reinigeadal. Neil is the Alfred Wainwright of Harris, producing a handwritten pictorial guide and illustrated by his own sketches.
Having described seven walks and hinted at more, he concludes the book by writing
On the other hand, it is nice simply to climb up the slope at the back of the hostel and sit on a rocky outcrop up above the Dale of the Rowan Tree, and just be there…….
The booklet is available to download at this page.
In 2017 the Sandstone Press published a series of mountain essays by veteran Scottish Mountaineer Hamish Brown. His book entitled Walking the Song includes an account of a two night stay at Rhenigidale over Christmas and his walk up the isolated hill of Roineval. We are grateful to Hamish Brown and the Sandstone Press for permission to reproduce his account of a winter day in the trackless terrain of Lewis that may be unfamiliar to those who stay at Rhenigidale.
The essay is available to read here.