TOBHA MOR  (HOWMORE)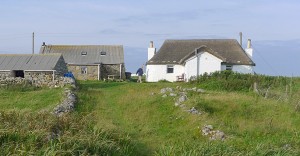 In the heart of the South Uist machair, next to the ruins of a 13th Century monastery
Howmore has been a popular hostel since it opened in 1966. Sea, sand dunes and machair are within strolling distance, as is some of the Hebrides best hill walking. The hostel looks eastwards towards Hecla (606m), Beinn Corradail (527m) and Beinn Mhor (620m) – South Uist's highest mountain. Local places to visit include Loch Druidibeg Nature Reserve (2 miles); Flora Macdonalds birthplace (7 miles); The ruin of Ormiclate Castle (4 miles).
Howmore Hostel
Open all year
Grid Ref: NF75759 36433 (OS Landranger Sheet No. 22) and GPS location: 57° 18' 9.96" N, 7° 23' 18.99"W
Zoomable map and satellite imagery (select Birds Eye) here
16 Beds in three shared rooms. Two dormitories of 6 beds.  One dormitory of 4 beds.

Charges: An individual bednight fee is £16 for age 18 and over, under 18 the fee is £8. The individual camping fee is £10 which reduces to £5 for those under 18. If you wish to hire a sheet sleeping bag the cost is £2. The hostels are not available for "Day Use" except where a bednight or camping fee is paid. To download our information sheet for the charges currently operating please click here.
Camping is available within the grounds of the hostel. Wild camping occurs on the machair at Howbeg. Wherever you camp, the camping fee is payable if you wish to use the hostel facilities.
Visitor parking and animals, other than Guide Dogs, are not allowed within hostel grounds.
Betty MacDonald is the warden
No advanced bookings can be taken so we are unable to forecast future availability. See our Frequently Asked Questions page for more information.
The hostel lies in a Conservation Area and its accommodation buildings is thatched.  The hostel is described in the  book "A Survey of the Thatched Buildings of Scotland" and the pages on the hostel may be viewed here.
Inside the hostel
Common Room/kitchen: A cosy room with dining area and coal burning stove.
Fully equipped self-catering kitchen: microwave oven, gas rings, cutlery, crockery, pans, tea towels.
Toilets and Showers: Separate toilet and showers, with instant hot water units.
Basic barn adjacent for bike parking or other equipment (unheated).
Beds in four shared rooms.
How to find Howmore Hostel
From the main island road (A865) take the turning marked "Tobha Mor". The hostel is the white stone thatched building with a porch entrance, by the church, at the road end.
Buses and ferries
Bus stop half a mile from the hostel, at the junction with the village road, on the main road. (There is a bus shelter.)
Here is the bus timetable, bus map and the Cal Mac website for the ferry timetables.
Local Services
Shops.  Lovats at Carnan 7 miles to the north; the Co-operative at Creagorry is 9 miles to the north. There is also a Co-operative at Daliburgh, 10 miles to the South.  Both are on the A865 and the bus route W17.
Nearest petrol pump are just north of Creagorry on A865 (OS map 22 NF798501)
Cash machines is at Lovats, Carnan and the Co-operative in Creagorry  There is also a cash machine at the Royal Bank of Scotland, Lochboisdale
Walks from the hostel

Click the image to enlarge to full size
There are fine coastal walks along the unique Hebridean machair track (oldest road in the Outer Hebrides) with superb scented flora in season.
South Uist's highest peaks are all within easy reach: Hecla (606m; 1988ft), Beinn Corradail (527m; 1729ft) and Beinn Mhor (620m; 2034ft) – South Uist's highest mountain. (Howmore hostel is the closest hostel to these peaks) ; Loch Druidibeg Nature Reserve, 2 miles; Flora Macdonald's birthplace, 7 miles; ruin of Ormiclate Castle, (Clanranald) 4 miles.
See our Explore around Howmore page
Howmore e-book and Audiovisual
There is a 9-minute AV on the hostel and the surroundings of Howmore.  For more information and a view of the AV visit this page.
The AV has been converted into an e-book and will be available to download for reading on smart phones and small devices like Kindles and tablets. The e-book may be downloaded here in PDF format.
Howmore celebrates 50 years as a Gatliff Hostel
The celebrations at Howmore on September 11 were reported in the South Uist Press.  Below is a copy of the article: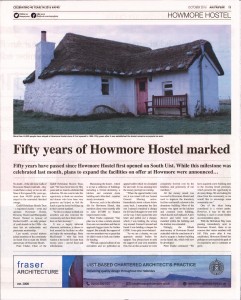 A "Fantastic Hostel"
Read what people are saying about Howmore hostel, both hostellers and donors, here.