The Hebridean Walking Way passes through Howmore and Berneray.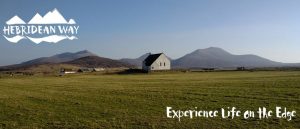 At a VisitScotland Expo the Hebridean Walking Way was officially launched on April 26 2017and its website became live.
The 156 mile walk is described from south to north, beginning on Vatersay and ending (for the moment) at Stornoway. The distance has been subdivided into twelve days walking. Each of the twelve days is described on a webpage with a map and prominent image. The shortest day is from Lochmaddy to Berneray, 10 miles, so there should be time available to explore Berneray itself and perhaps break the journey there. The longest and final day is from Balallan to Stornoway, 17.5 miles.
At the end of day 3, walkers arrive at Howmore where the website says "accommodation is limited to a simple but comfortable hostel." At the end of day 7 walkers arrive at Berneray or travel on by ferry to Leverburgh, where the website says "Both villages have a good selection of accommodation".