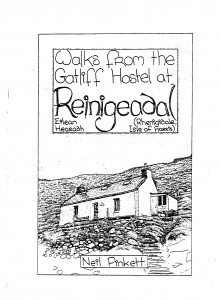 In 2000 the Gatliff Trust published Neil Pinkett's Walks from the Gatliff Hostel at Reinigeadal. Neil is the Alfred Wainwright of Harris, producing a handwritten pictorial guide and illustrated by his own sketches.
Having described seven walks and hinted at more, he concludes the book by writing
On the other hand, it is nice simply to climb up the slope at the back of the hostel and sit on a rocky outcrop up above the Dale of the Rowan Tree, and just be there…….
There is a Foreword to the book by Peter Clarke, Chair of the Gatliff Hebridean Hostels Trust, followed by an informative introduction to Rhenigidale before the detailed descriptions of seven walks. PDFs of the pages of the walks are available to download below.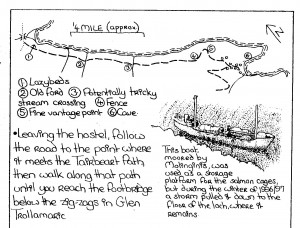 Part of a page illustrating the walk to Molinginish
The Rhenigidale to Tarbert "Postman's" Path
The caves, the breathing stone and the rollercoaster…
The book is available to buy priced £3 plus postage through Northampton Square. Visit here for full details of how to purchase the book on line.