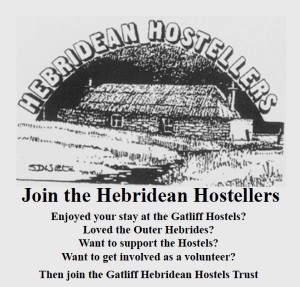 Once you have enjoyed the experience of staying in any of our three hostels you may wish to receive regular information on the Outer Hebrides, including our ongoing work to upgrade the hostels and maintain them against the ravages of the elements in the Western Isles.
You can keep in touch by becoming a member of the Gatliff Hebridean Hostels Trust and contributing £10 a year. Under 18s pay £7.50 a year. In exchange for which you will receive our newsletter Hebridean Hostellers published twice a year and our Crofters Newsletter published once a year.
You can look at our back issues here.
We also would like to use the skills of members to run the Trust and publicize its role in attracting new visitors to the Outer Hebrides who would enjoy staying in the accommodation we offer.
We would be delighted to welcome you to membership of the Gatliff Hebridean Hostels Trust. You can download a 2017 application form here. Membership runs from 1 January to 31 December.