The Hebridean Way Cycle route was launched on 11 March 2016, after  Mark Beaumont cycled the route.
The 'Hebridean Way' is a self-guided journey through the island chain from Barra to the Port of Ness exploring some of the finest scenery the Outer Hebrides has to offer.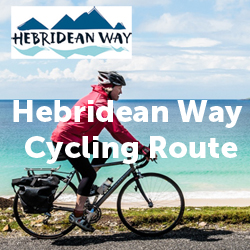 Steeped in history, the Hebridean Way stretches 185 miles along the length of the Outer Hebrides from Vatersay in the south to the Butt of Lewis in the north. The route passes through 10 Islands linked by a combination of causeways and ferries, over rugged hills and along dazzling Atlantic coastline.
The stunning landscapes, the geology, wildlife, heritage and scenery of the Outer Hebrides are truly awe-inspiring. The Outer Hebrides retain a culture that is different to mainland Scotland, Gaelic is often spoken as a first language and there remains a sense of culture and tradition on each of the inhabited Islands that make up the Outer Hebrides.
The way is dual aspect, with a walking route and separate national cycle network route. The cycling route follows the National Cycle Route 780.
A good description of a cycle holiday along the route is available in an article entitled A look at the New Hebridean Way here.
The walking route is comprised of purpose built sections and also makes use of existing footpaths, peat tracks, quiet roads and traditional rights of way, whilst the cycling route follows both main and quiet roads.