BHEARNARAIGH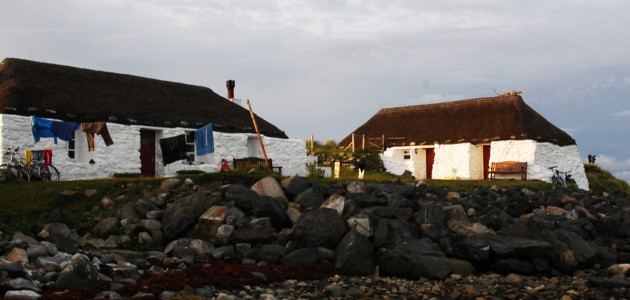 Please note that this hostel was closed on 18th March 2020 due to the Covid-19 pandemic and has not yet re-opened.  Please see the banner announcement on our home page.  This is updated at regular intervals.
A hostel with great views and atmosphere set in a lively island community.
It is possible to walk around the island in a day. There are magnificent beaches adjacent to the hostel and on the west side of the island. The northern coast is rocky and affords a superb panorama of Harris, with flocks of gannets plying back and forth to St Kilda, many diving for fish. Seals are common and otters can be seen.
Berneray Hostel
Open all Year
Grid Ref: NF93228141 (OS Landranger Sheet No. 18 ), GPS location: 57° 43' 2.28" N, 7° 09' 14.27" W
Zoomable map and satellite imagery (select Birds Eye) here
21 Beds in shared rooms.  6 beds in one dormitory, 7 beds in a second dormitory, and 8 beds in a third dormitory.
Charges. An individual bednight fee is £16 for age 18 and over, under 18 the fee is £8. The individual camping fee is £10 which reduces to £5 for those under 18. If you wish to hire a sheet sleeping bag the cost is £2. The hostels are not available for "Day Use" except where a bednight or camping fee is paid. To download our information sheet for the charges currently operating please click here
All beds are equipped with mattress covers, pillows and pillow cases and a duvet and duvet cover.  It is obligatory for hostellers to use a sleeping bag when using a hostel bed.  This may be their own fully enclosed quilted bag or sheet sleeping bag.  Sheet sleeping bags may be hired at a cost of £2.
Hostellers may camp within the fenced hostel plot.  Please note there are no pitches for camper vans.  We are not running a camp site per se.
No advanced bookings can be taken so we are unable to forecast future availability. See our Frequently Asked Questions Page for more information.
Dogs, other than Assistance Dogs, are not allowed within hostel buildings.
The hostel warden is Jackie West. The warden does not live at the hostel but calls at the hostel twice a day, (once a day in winter).
The hostel is renowned for the peace and tranquillity to be found at its beachside location and its community spirit.
The hostel's sea-front position is superb but does lead to a constant battle against sea erosion of the dunes between hostel and the beach.
The hostel lies in a Conservation Area and its two buildings are thatched.  The hostel is described in the  book A Survey of the Thatched Buildings of Scotland and the pages on the hostel may be viewed here.
Close to the hostel are some old empty buildings.  These are privately owned and  not in the best state of repair. Please avoid this area, and understand that the Gatliff Hebridean Hostels Trust is not responsible for any related safety issues.
Inside the hostel
Common Room/kitchen: with dining area and coal burning stove.
Fully equipped self-catering kitchen with gas rings, microwave oven, crockery, cutlery, tea towels, and hot water.
Three shared bedrooms with bunk beds (some camp beds also available)
Toilets and Showers: Separate to shared bedrooms, with instant hot water units.
How to find Berneray Hostel
Follow the road right round Bays Loch, past the shop and on until the metalled road takes a sharp turn left.
By now you will be looking out over the Sound of Harris. Keep on towards the sea shore along the track, past a thatched building on your right (the ancient gunnery of the Macleod).
Turn right through a gate.
The hostel is the two white walled thatched buildings on the shore.
One, the annex, has an otter modelled onto the top of the thatch. The otter is looking out to sea. (Otters can be seen on the foreshore in front of the hostel)
Buses and Ferries
Nearest bus stop: 100 yards from hostel. Berneray Youth Hostel is northern terminus of Route W17.
Here is the bus timetable, bus map and the Cal Mac website for the ferry timetables.
Local Services
Nearest shop: On Berneray is the Ardmaree Stores, a well-stocked small shop close to the ferry terminal. (You pass this shop on your right on the way to the hostel (closed Sundays).
Post Office in centre of Berneray.
Telephone Call box in shelter on jetty at harbour.
Large Co-op stores at Sollas on North Uist (closed Sundays)
Nearest petrol pump is at Lochmaddy (ferry port) (OS Map 18 NF917687) or at the Bayhead shop on the west side of the island (OS Map 18 NF 750684)
Nearest cash machine. Bank of Scotland Lochmaddy (OS Map 18 NF917685)
Walks from the hostel
The Community on Berneray
Every year hostellers are invited to join in events during Berneray Week. During that week the island gives way to fun, enthusiasm and energy and a programme of events that belies the small size of the island's population. Berneray Week is the third week of July.
See the Berneray Community web site for information on island life and year-round social activity. Hostellers are always very welcome at community events.
The Berneray Historical Society has a display at The Nurses Cottage on the main road through Berneray. For more information phone the Nurses Cottage on  01876 525001 or visit the Historical Society website here