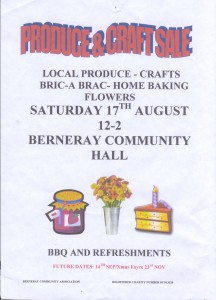 This notice, which appeared at Berneray Hostel, inspired a lot of laughs and a memorable evening at the hostel.  More reports & pictures please.
The night before the sale it was agreed by the hostellers that they should all attend the sale and, with a £3 budget, buy something which they believed to be essential for the hostel.  After supper they would each give a presentation explaining why their item was essential.
Sam was the winner.  Here item was a spirit level with a torch at one end and a screw driver at the other.  Her case was that the spirit level was good for getting out of bed.  You could use it to decide if you were horizontal or vertical.  The torch was handy for crossing over to the annex at night and the screw driver could be used for carrying out running repairs to the lock on the toilet door.
A Spanish hosteller found a small dish from his home country which includes a lady in traditional dress.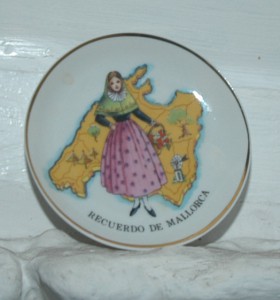 The trophy was an object of desire, an artistically designed flower in plastic.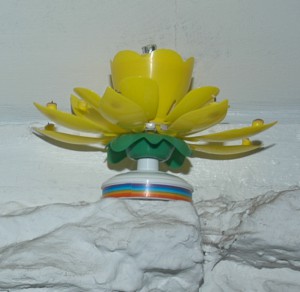 More reports please as it would be interesting to hear about the other items choses and even get some photographs.
Hostellers present agreed to reconvene at the turn of the year, reviving a Berneray tradition of Christmas and New Year at the hostel.
However, it is clear from the notice that two Produce and Craft Sales are to take place on Berneray before Christmas: one on 14th September, the other bill as an Xmas Fayre on 23rd November.